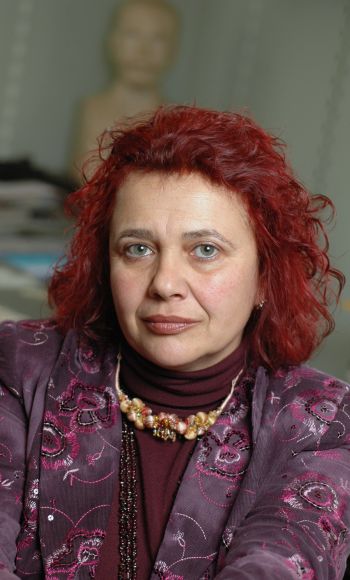 (1962 - )
Mirela Ivanova was born in Sofia. She went to the German language school there and then graduated with a degree in Bulgarian Philology from the Paisii Hilendarski University of Plovdiv. She writes poems, short stories, literary criticism and pieces of journalism, and she translates from the German language. Her books of poetry include Kamenni krile [Wings of Stone] (1985; 2004), Shepoti [Whispers] (1989), Samotna igra [Lonely Game] (1990), Pamet za podrobnosti [Memorizing Details] (1992; 2003), Razglobyavane na igrachkite [Putting Toys Apart] (1995), Eklektiki [Eclectics] (2002); she is also the author of Bavno [Slowly] (2009), a book of poetry and prose, and of her personal anthology Lyubovite ni [Our Loves] (2012). Mirela Ivanova has translated and published an anthology of contemporary German poetry under the title of Stranstvaneto na kamanite. Savremenni nemski poeti [Rolling Stones: Contemporary German Poets] (1994), she has put together a collection of Mara Belcheva's poetry Edin zhivot [A Lifetime] (1996), the anthology Pridavam forma na kopnezha: zhenska poeziya ot vremeto na prehoda v Bulgaria [Shaping Up Longing: Women's Poetry from the Bulgarian transition period] (2004), and a volume of poems by Ivan Vazov Az sam balgarche [I am Bulgarian].



In 1993 Mirela Ivanova was awarded the annual Union of Bulgarian Writers award for her book Pamet za podrobnosti [Memorizing Details]; she is also the winner of the Trud newspaper prize for poetry in 1999. Her book Eklektiki [Eclectics] got the award of the Union of Bulgarian Writers for 2002, and the Hristo G. Danov award in 2003. In 2002 Mirela Ivanova won the Hermann Lenz prize in the competition for contemporary poetry from Eastern and South-Eastern Europe, annually awarded by the German media magnate Dr Hubert Burda.



Mirela Ivanova has been included in the Writing Europe: What is European about the Literatures of Europe? Essays from 33 European Countries volume with an essay translated into English.


---
---